James and I are on day 8 of our 10-day vacation in California (follow along on Instagram) and I am writing this blog post after a very busy and sun-filled day in LA. I also want to warn you that there will be a few California-inspired blog posts coming your way in the next few weeks which I can't wait to create for you!
For today's blog post I am beyond excited to introduce you to a clothing company that is ethical, eco-friendly, and sustainable. But first of all, I need to tell you more about Laura (also known as LB), who is the definition of a boss babe. This girl does it all: yoga and spin instructor, holistic nutritionist, juice connoisseur, creator of a bad ass clothing company, and so much more.
Laura has so much energy and passion for everything she does, it pulls you in and makes you want to be a part of whatever she's up to! Laura has lived all over California and made the move to Calgary to be with her partner. After losing everything in the Calgary Flood and taking two years to rebuild her life, she embarked on a journey to live more mindfully and educate herself as much as possible. This is how her clothing company Nourish Sweat Soul was born.
I loved bringing Nourish Sweat Soul back to it's roots and took these photos in Santa Monica, Venice Beach and Abbott Kinney. ("Kalegary" was inspired by the term "Kaleifornia")
So why should we buy ethical, eco-friendly, and sustainable clothing?
I first learned from Seed Yoga (another amazing company) that whatever is in our clothes is absorbed by our body, the same way our skincare is, especially when we are sweating. Which is something I had never thought about but it makes so much sense.
Laura said it best when she said: "..less chemicals in and on our body will lead to better health. Less chemicals used in farming and supporting organic also supports the health of the people growing our food and making our clothes, as well as animals and our environment."
I think it's amazing to look at and reflect on how our lives affect the world around us. And how a decision as simple as buying clothes has so much impact. I learned so much when talking more about Nourish Sweat Soul. For example, did you know that the clothing industry is the second most polluting industry in the world?
All of the apparel from Nourish Sweat Soul is made from organic, sustainable, or recycled materials. They support companies that make apparel ethically (treating people right) and sustainably (which means minimizing waste, recycling materials, reducing carbon footprint, and is also non-toxic). The apparel is primarily made in the US or Canada and printed locally in Calgary.
"Our world consumes about 80 million pieces of clothing each year, that is 400% more than 2 decades ago, and 3 out of 5 items of clothing ends up in landfills each year."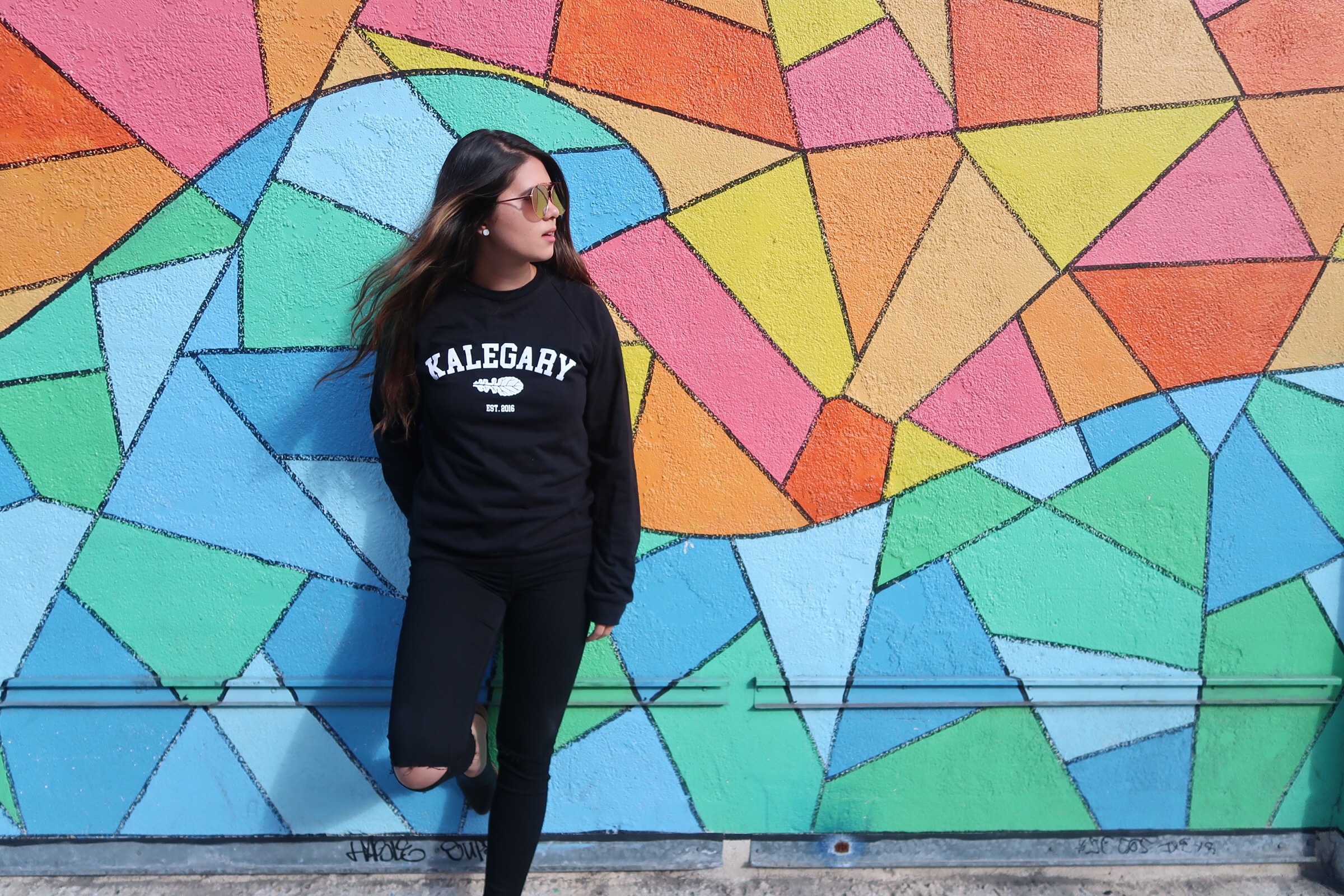 Nourish Sweat Soul embodies the idea of nourishing your mind, body, and soul. They want to spread a positive message about shopping mindfully and conscientiously and being aware of how certain things can have a huge impact on the world we live in.
I love learning and spreading the word about companies like Nourish Sweat Soul and I hope that you learned something from this post!
For all you Calgarians, Nourish Sweat Soul will be at Market Collective this weekend!!!
You can also find them on Instagram, Facebook, and online.
(psst...their winter line will be on sale and they will debuting their new Spring line at Market Collective!)
Don't forget to sign up for my monthly newsletter: