Yasou! (Hello in Greek)
I'm travelling around Europe for five weeks and my first stop was Greece! Here's a breakdown of my time there and how I was able to travel vegan in Greece. If you don't want to read everything and just want to know about what Greek dishes are vegan then scroll all the way to the bottom.
---
For the first two weeks of my trip I was with my friend Jess and we flew with Air Canada from Calgary to Athens and I had the option to select vegan for my meal when I was booking the flight. If you choose a vegan or special meal you get it before everyone else, just another reason to eat vegan. I was surprised that the food wasn't too bad, the dessert was definitely the best part.
ATHENS
We had three days to explore Athens. We stayed in an Airbnb south of the city in an area called Glyfada.
On our first day, we headed straight for the beach. We went to Bolivar Beach Bar, and what people don't tell you is that you have to pay to go to most beaches. I think it was about 4 euros which includes access to beach chairs but it was so busy that day we couldn't get one. We just laid out our towels and spent most of our time in the water. The water in Greece was clear and blue and so warm we could float out all day.
For lunch, we went to Pita Bar and I had a vegan pita wrap. Pita wraps are usually called gyro which means the meat spinning on the spit, or souvlaki which means meat on a stick. I would usually ask for a vegan gyro or a vegan wrap. This one had a deep-fried potato patty in the middle making it have some nice texture and really filling.
For dinner we went into downtown Athens and ate at a restaurant with a beautiful tree filled with twinkle lights, live music, and locals getting up and dancing all night. It was our first time at a Greek restaurant and I had eggplant salad with pita which is like a Greek version of Baba Ganoush.
The next day we went back to downtown Athens, we went to Syntagma Square where the parliament building is located as well as lots of pigeons. There were lots of people letting the pigeons sit on them for photos...no thank you. There are guards in traditional uniform outside and every Sunday at 11 am you can watch the changing of the guards. We also did a quick stop at the National Garden and walked past the ruins of the Temple of Olympian Zeus.
We walked to The Plaka, a small neighbourhood and shopping area. The streets and stores were so cute I could have spent all day walking around. We stumbled on a place called Brettos, the oldest distillery in Athens. They had a lot of unique cocktails and different kinds of Ouzo. If you haven't heard of Ouzo, it's a popular drink in Greece that tastes like black licorice and poison, in my opinion. But you should definitely try it...
We stopped for lunch at a Greek restaurant where I tried gemista (tomatoes stuffed with rice), it was the best one that I had the entire trip. We continued walking and making our way to get dessert.
There were even more stores on the way so it took us quite a long time to get to our destination. The dessert we were on the hunt for is called Lukumades which is just deep-fried dough with different toppings. The dough is vegan and there were a few vegan toppings on the menu, I went with the powdered sugar. Deep-fried dough and sugar, so yummy!
There are bakeries everywhere in Greece and for breakfast, I would just get a piece of bread shaped like a ring called koulouri and a frappe usually with no milk but sometimes if I was lucky they had almond milk.
For our last day in Athens we went to the Acropolis which includes the beautiful Parthenon building. We got there just before it opened and there was still a bit of a line but not too bad. I would recommend getting there by 9 am because you have to hike up a bit and it gets really hot. There were also a lot more people coming up as we were going down.
Pro tip: if you are a student or have an old student card like me...bring it everywhere. I got 50% off my entrance tickets to the Acropolis and most other museums and major attractions in Greece.
In Athens we discovered an amazing place called Gregorys which is more like a fast-food coffee shop that has vegan cookies, sometimes they have vegan spanakopita and also vegan Freddo cappuccino which is a soy-based whipped cream on top of the coffee.
Later that day I got to go to a Greek wedding, in Greece!!! Jess' cousin was getting married, it was such a beautiful reception and an even crazier party afterwards. The dinner was traditional Greek food buffet-style and I had lots of options. I had Greek salad, another type of salad, roast potatoes, and rice. #allthecarbs
A lot of people told me to only spend a day in Athens but I really enjoyed it and could have stayed longer. The only thing was they didn't understand English that well and didn't try that hard to speak it so maybe practice some Greek basics before you go.
SEE THE FOOD AND MORE IN MY ATHENS VLOG:
KOS
After our 3 days in Athens we flew to the Island Kos (tip: book a taxi from the airport in advance).
Kos is part of the Dodecanese islands and for the first half of the week, we stayed in a part of the island called Tigaki. Our hotel was right by the beach so we went every day. Pretty much living our best lives.
The breakfast at the hotel wasn't great so I ended up buying some peanut butter from the store and also some fruit. We ate pita wraps every day for lunch and only ate at Greek restaurants. I had some of the best dolmades (rice wrapped in grape vine leaves) and hummus I've ever had. I was surprised that a lot of Greek restaurants do not have hummus. Every Greek restaurant also has fried zucchini, eggplant, or a mix of vegetables which I would also get. There are lots of British and German tourists there so every menu had an English and German translation.
While we were in Tigaki we took a cab up to Zia, a little village at the top of a hill. It's the perfect place to watch the sunset and also do some souvenir shopping. There's a trail that winds up higher through the village and there's a cozy cafe called the Watermill, which I would definitely recommend visiting. We ate at a restaurant to watch the sunset and I had some zucchini and chickpea fritters which were really good!
After Tigaki we moved to the main part of Kos called Kos Town which is beside the port. It's a lot more lively, there are more things to do and it has much more of a nightlife. We still went to the beach almost every day because it was so hot you needed to take a dip in the sea to cool down.
There are a lot of bike paths in town so we rented bikes one night, biked along the sea and visited a few different ruin sites. We also visited the castle, the tree of Hippocrates, Old Town, and the Roman Odeon.
There are also day trips that you can do from Kos, you can take a ferry 20 minutes to an hour to Bodrum, Turkey or do a three island cruise to smaller islands where they stop and go swimming and you also see dolphins. It's pretty cheap to do the three island cruise but we decided not to go because we were going to one of the islands anyway.
In Kos Town we mostly ate at Greek restaurants again. More pita wraps and more of the same things I had been eating before and I also tried fava which is like a pureed bean dip. Everything was always so good, I don't think I had a bad meal the entire trip.
RHODES
We decided to do a couple of overnight stays on different islands. First, we took the ferry from Kos to Rhodes. When you book longer ferry rides you can pay an extra 2 euros for "airplane type" seats and I highly suggest doing this especially if you want to sleep.
Rhodes has a huge castle in the middle of their main city and a day was the perfect amount of time to explore. We explored inside the castle, went to an archaeological museum and explored other ruins in the area.
In Rhodes, I found the only fully vegan restaurant at this point in our travels. It was called To Marouli and they had vegan tzatziki!!! Finally! I decided to have the vegan burger because I saw a comment online that it was the best they had, it was really good and such a huge portion, but I wouldn't say the best I ever had. We had the chocolate brownie for dessert which was more like cake but delicious either way.
KALYMNOS
Next, we took the ferry from Rhodes to Kalymnos. Kalymnos is a pretty small island and it's very famous for their sponge diving. We definitely picked up some natural sponges to take home.
Our Airbnb on the island was the best of our whole trip, I'll link it here. It was about 20 minutes from the port so we had to schedule transport with our host. The Airbnb was on top of a hill so the view was gorgeous! There was a beach at the bottom of the hill which we spent the afternoon at and in the evening we got to watch the most beautiful sunset from our balcony.
The only thing was that it was hard to walk anywhere because you had to climb up a very steep hill to get back home. I would have loved to stay longer but would have definitely rented a scooter or ATV.
SANTORINI
Then we took a ferry back to Kos and then from Kos we took another ferry to Santorini. Santorini is so high up compared to all the other islands and it has the windiest roads I've ever seen. It also has some of the most beautiful and unique views I've ever seen. It was pretty crazy getting to see the rows of white houses on the edge of the hill in real life and walk the small paths that create a maze in between them.
On our first day in Santorini we walked what we thought was into the main part of Oia (Oia is where the main area where the popular views are) but actually ended up walking about half an hour in the wrong direction. Whoops. When we finally made it into Oia we went to the Byzantine castle ruins, where most of the photos of the views are taken. Then we walked the streets until it got too hot so we had to go to the pool. For dinner, we made a reservation at Feredini restaurant which has a balcony with a great view. We had white eggplant to start and I had risotto for my main course.
We found a super cute bookstore called Atlantis and I would highly recommend visiting!
We only had two days in Santorini and the next day we rented an ATV so we could ride around the island. It only takes about 45 minutes to an hour to get to the other side of the island so you could you tour all of Santorini in one day.
We did a quick stop in Pyrgos and then we went to Santo Winery. We didn't love the wines but we loved the view! It's in the middle of the island you can see both ends of the Santorini caldera. We also stopped in Thira and went to Falafeland, one of the only vegetarian/vegan restaurants on the island. We had falafel wraps and they did not disappoint.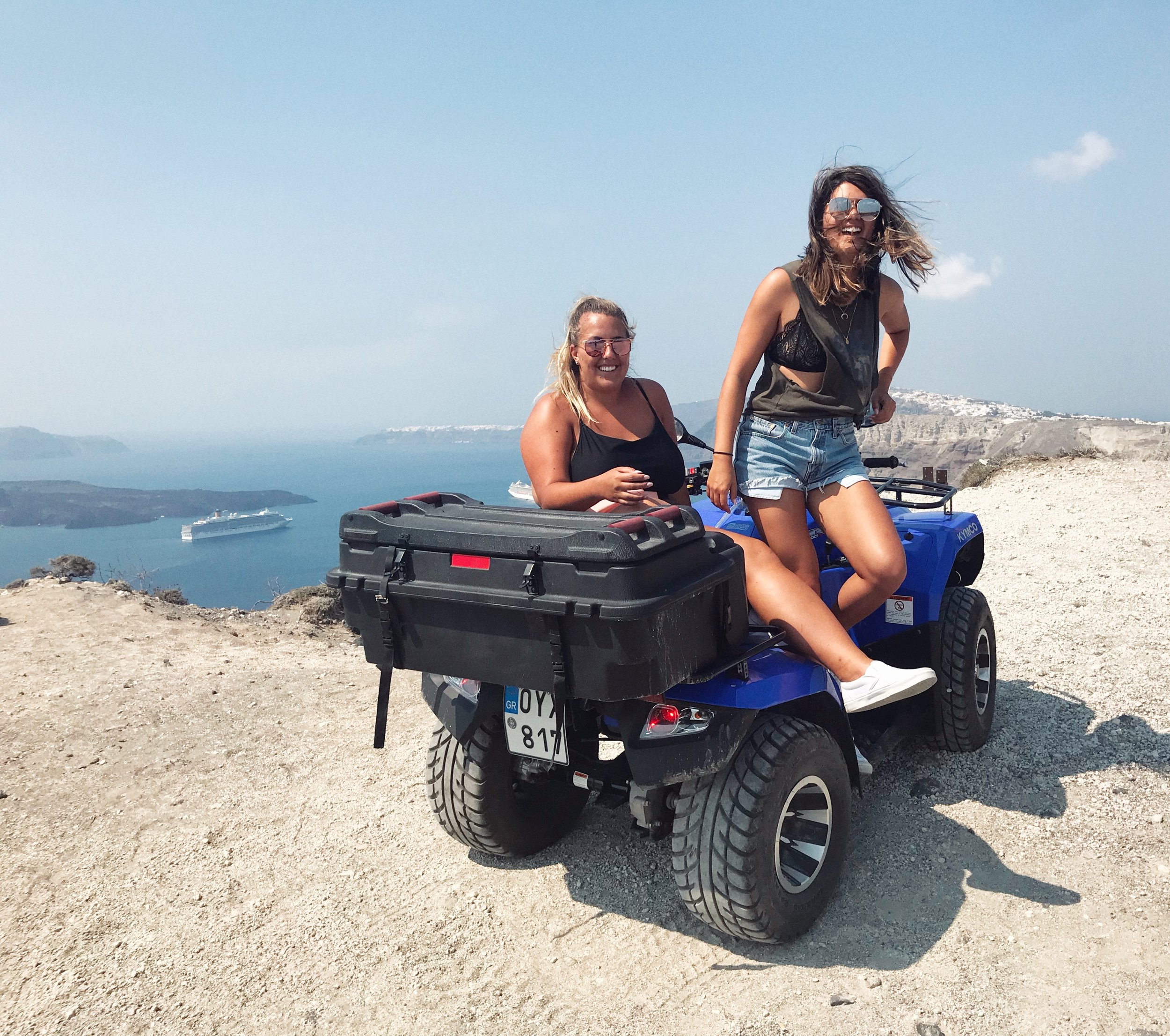 I hope you enjoyed reading about our trip! We had an amazing time!
Greeks are big meat eaters but they have a lot of vegan options. I didn't list the names of specific Greek restaurants because they all have pretty much the same things in terms of vegan choices.
Here's a list of traditional Greek dishes that can be made vegan:
Greek salad - ask for no feta

Dolmades - rice wrapped in grape vine leaves

Gemista - tomato or pepper stuffed with rice

Briam - vegetables in tomato sauce

Fava - fava beans pureed

Pita wrap - pita filled with vegetables and fries, ask for no tzatziki or sauce, replace with mustard or hummus if available

Eggplant salad - Greek Baba Ganoush, make sure there's no dairy

Frappe - Greek coffee, ask for no milk

Koulouri - ring shaped bread

Fried zucchini or eggplant or mixed vegetables
P.s. there is no word for vegan in Greek. They usually know what vegetarian means but sometimes you need to explain that vegan also means no dairy and no eggs.
P.p.s. the service in Greece is terrible. They take your order, bring your food, and then you never see them again. Expect things to be a little slower and if you need something you'll have to wave them down.
If you have any questions about my trip feel free to leave a comment or email me hello@lifewithzandra.com
Make sure you're following me on Instagram to see my day to day adventures!